MOOJAG and the LOST MEMORIES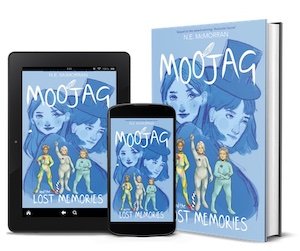 Another award-winning adventure by N.E. McMorran, the stand-alone sequel to 'Moojag and the Auticode Secret', praised by award-winning authors Patience Agbabi, Alex Falase-Koya, Ben Davis.

"Vivid, vibrant, compelling, laugh out loud… An imaginative futuristic adventure that draws you in and keeps you hooked. But it's the characters who win your heart."
READERS' FAVORITE, 5 star review.

"A really great book …captivating adventure. The world is really dense with really fun and whimsical pieces of technology, but still there is a real sense of peril that runs through the story. I have never been so scared of a marshmallow chamber! I love how it pushes back on the idea of older people being useless, not by erasing the things they may find difficult, but by highlighting their strengths …the things they still remember end up being as important as the things they have forgotten."
Alex Falase-Koya - MARV / BREAKFAST CLUB ADVENTURES

"Fantastical fun with a deep message about the value of human memories. I loved that the three grannies took centre stage with so much dynamism, humour and wisdom whilst taking memory loss head on. Go grannies!"
Patience Agbabi - INFINITE / The Leap Cycle

"A thrilling adventure with a memorable cast of characters!"
Ben Davis - LENNY LEMMON

"A brilliant story... Positive autism representation with loads of fantastic ideas that take you to another world!"
Sean Fletcher - Journalist / presenter

"A fantastic adventure with an important message and authentic and exciting neurodivergent characters. I loved it!"
Daniel Aubrey - Author, DARK ISLAND

When Nema returns to Gajoomdom, she discovers three forgetful grannies who have totally lost track of time. If she and Moojag can't help them remember, everyone's memories are in danger. But turns out not everyone is who they thought they were. Who will they rescue? Will they rescue them in time to save their perfect Real World from the nasty Conqip?
'Lost Memories', inspired by the author's grandmother, and living with dementia and disability during the pandemic, shows us the impact of loss and the power of memory, as well as the importance of future technology when used for good.

A multigenerational adventure for readers 8yrs and over (especially ND families and their grans!).
You'll whizz through this second Moojag story, like the wrinkly new characters who star in it!

Spondylux Press.