The MOOJAG and the Auticode Secret audiobook is available from Kobo, Audible, Amazon, Google and Apple...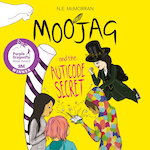 A diverse, neurodivergent team (autistic, dyslexic, adhd, downsyndrome, LGBTQIA+) and parents of ND children, produced and voiced the audiobook:
Ria Lina, Indica Watson, Becky Davis, Sam Palmer, Simon Marchant, Tracy Foster, Harry Thompson, David Watson, Errol Kerr, Ciarán McGlynn, Tilley Milburn, Jack Monaghan, Emily Burke, Catti Goodbody, Duckie Nella Moriarty, Jaz Bigden, Jordan Esau, Mohamed Salim Sillah.
The audio was adapted and directed by the author, recorded and produced by Spondylux Press and The Monostery, in London, July-October 2020.
Check out our YouTube channel for sneak previews of the audiobook!
For more info / press news and interviews, contact Spondylux Press